Top 6 Reasons for Having a Pool Filled In
So, you're a pool owner, and you're ruminating on the idea to have your pool filled in. Some of your friends think you're nuts for even thinking about getting rid of the summer fun, but in reality, there are pretty good reasons why pool owners might want to have their swimming pools filled in. Here are some of them:
You don't want the pool – You might have bought a property, and the pool came along with it. You didn't really want the pool to begin with, so what's the point of keeping it? Having a pool filled in is one of the easiest ways to get rid of a structure that could cost you thousands of dollars to maintain every year. You not wanting the pool in the first place is usually the primary reason why you want it to be filled in.
For safety reasons – You have people with disabilities, children, or pets at home, and you feel that by having the pool around, you are exposing your loved ones to danger. If you don't want the pool and the risks it carries, but would rather have peace of mind?
You don't use the pool often – Your kids are grown and your grandkids use it only so often. Or no one in the family wants to clean it and it becomes a science experiment. If you use your pool rarely, can you really justify the cleaning, maintenance, and remodeling costs?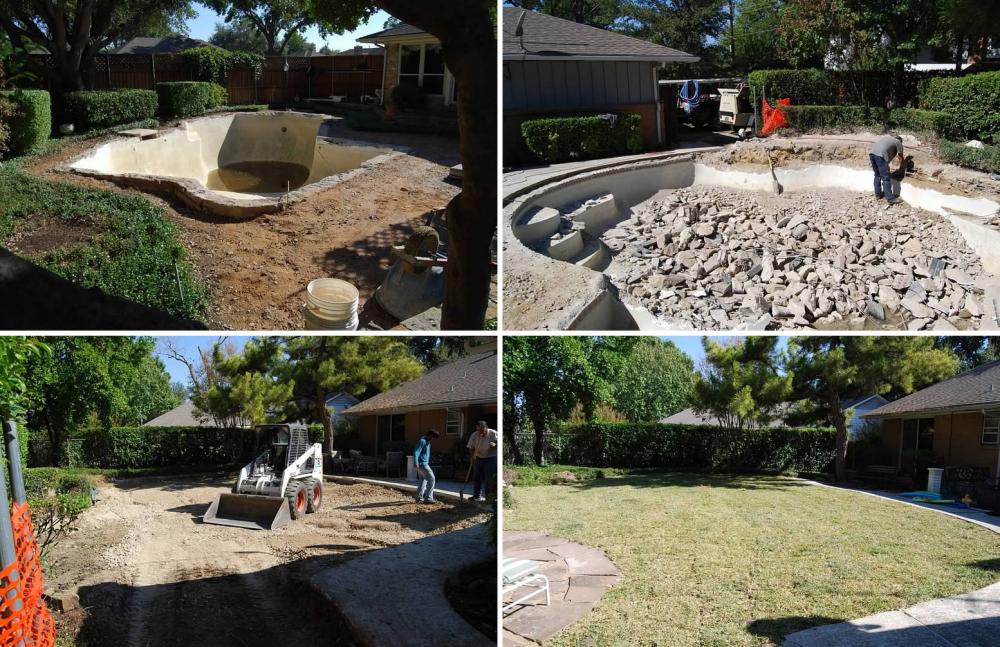 You don't want to do the dirty work – Cleaning a pool all by yourself can be a backbreaking ordeal. Sure, it's not a big deal for some people, but others find it simply arduous to maintain the cleanliness of their pools by regularly cleaning them.
It can be costly to have someone maintain it – So, if you don't want to clean the pool yourself, why not have a professional cleaning company do the work, right? Easy Breezy. Then again, it takes some amount of cash to have the maintenance work done; so, if you don't really want your pool, do you really want to spend cash to clean and maintain it? Also, pools need more than just cleaning. Over the years, the materials used to build it and the equipment used to make it run properly will become old, tarnished, or corroded, so remodeling is another thing pool owners must plan for.
You need the pool area for something else – You might no longer want the pool because you need the space for a new garden, or to build a new deck on, or maybe you want to have a new outdoor shed constructed. The space can be used for a lot of other things, and getting rid of the pool might be the only way to accommodate that structure or facility.
If you are planning to have your pool filled in but you are not sure whether or not it's the right thing to do, don't hesitate to get in touch with the pool experts at Sterling Pool Service. We will be more than happy to discuss all the basics of pool demolition to you so you can make an informed decision on the matter. Call us today at 888-973-0274, or send us a message through our contact page.
Better yet - view our slideshow of a pool we filled in. You don't have to be a member to view the pictures. Don't create an account; just click on Pictures & Videos, then click on View Album. The best way to see them is in the slideshow mode.
Let us know if you are interested in moving forward with your renovation, or if we can help you with any pool issues.
Our service area includes the following: Sachse, Wylie, Murphy, Allen, Plano, Richardson, Garland and Dallas.