Electrical devices are always potential hazards when installing near a swimming pool, and elements such as power sockets, lighting fixtures, and others, are potential sources of electrical shock. A common means of protecting yourself from these types of accidents is through the installation of what is known as a Ground Fault Circuit Interrupter, or GFCI breakers.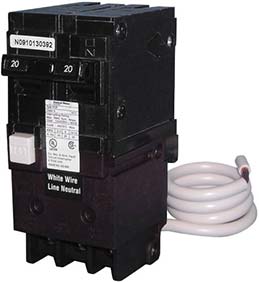 A GFCI is an electrical wiring device that disconnects an electrical circuit when it detects that there is an imbalance in the electric current of the circuit. Such imbalances usually occur when, say, the system detects an overload, a fluctuation, or a short circuit. Upon detection of such an imbalance, a GFCI is designed to disconnect the circuit quickly in order to prevent equipment damage, and most importantly, to prevent seriously, and even potentially lethal injury to bathers caused by electric shocks.
Take note that most city electrical code regulations require that low voltage lighting or electrical devices within 1.5 meters of a swimming pool and within 3 meters for hot tubs be protected by GFCI breakers. For swimming pools with electrical devices near it or inside it (pool lights and pool pumps, for example), a Certificate of Inspection from the City Electrical Inspector is required for it to be considered safe. Always remember that swimming facilities need to be wired properly and in accordance with safety regulations and that the installation of other pool equipment will require the appropriate GFCI breakers.
For your own safety and peace of mind, make sure to enlist the help of your professional pool equipment and maintenance company Sterling Pool Service. Having provided top-quality equipment and services to homes and businesses in Dallas County for more than 32 years, our team of licensed and highly-trained technicians is well-versed on current electrical code regulations, and can provide you with all the advice and assistance you need when installing pool equipment: from selection, to installation and operation.
So give us a call at 888-973-0274, from 8:00am to 4:30pm Mondays through Fridays, or contact us via our online contact form. Our friendly staff will be happy to answer all of your inquiries. Make sure to also inquire about our pool diagnosis and pool renovation bids!