All types of pools require at least the basic set of pool equipment and plumbing installations in order for it to function as they should. A pool system is usually comprised of pumps and filters as well as various other machinery that assist in pool water management and sanitation. All of these elements are connected by what are known as diverter valves.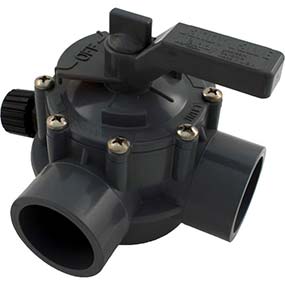 A common type of diverter valve is the three-way valve which has three ports, one at the center, and two at opposite ends. These have been designed so that it's possible to close off the water supply from either end while keeping the center port open. One example of its application would be to use a three-way valve to shut off the water supply to a skimmer and a pool drain while keeping the flow to the pool pump open, a configuration that is useful when filling or topping up the water in a pool.
The installation of pool plumbing and its valves is best performed by professional pool equipment and maintenance companies such as Sterling Pool Service. Having provided top-quality equipment and services to pool owners in North-East Dallas since 1987, our team of licensed and highly-trained technicians can help you to make pool maintenance as hassle-free as possible with the help of proper valving and plumbing installations.
For any of your pool valve needs, give us a call at 888-973-0274, from 8:00 am to 4:30 pm Mondays through Fridays, or send us a message via our online contact form, and our friendly and helpful staff will be happy to answer all of your inquiries. Make sure to also inquire about our weekly service agreement and pool renovation bids!
Questions

or Need

Quote?

Our service area includes Sachse, Wylie, Murphy, Plano, Allen, Richardson, Garland and Dallas. Fill out the form below and we will contact you shortly.
---