Why Should I Hire a Pool Service Company?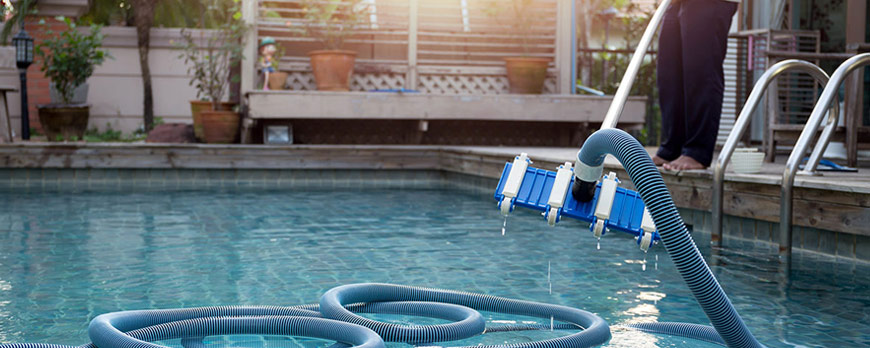 Pool owners often find themselves cleaning and performing maintenance on their pools more often than they find themselves swimming. If you have a full-time job, most of your weekend can be spent cleaning and vacuuming the pool and adding chemicals or testing their levels. Also, you will find yourself making frequent trips to pool stores to replenish your supplies and chemicals.
Taking care of a pool requires a lot of effort and planning. It requires attention on a regular basis and, if you own a pool, you know how hard it can be to convince your spouse or teenager to vacuum or use a skimmer when vacuuming. When you hire a professional pool maintenance company, there will be no more arguments over whose turn it is to clean the pool.
Pools require physical effort as well. Leaning down to empty filters or vacuum the pool can cause back pain. Another cause of back pain or sore muscles can come from brushing and scrubbing the sides and bottom of your pool. Hiring a swimming pool service to do the labor-intensive work is one way to enjoy your hard-earned free time.
And then there is the effort involved in adding and adjusting pool chemicals, which costs money. Sometimes, you need a chemical that will only be used once, but you still need to buy a bucket full because it is not available in smaller sizes. When you hire a pool service, they have access to this chemical and even though there may be a charge above normal maintenance chemicals, it's still cheaper to let them balance the chemicals for your pool.
Common items that need to be replaced are the skimmer baskets, skimmer lids, pump baskets, automatic cleaner bags, and chlorine tab floaters that can be replaced or monitored by your weekly pool maintenance provider: Sterling Pool Service. Not only does this save you time, but it also saves the space you'd use to store your supplies and chemicals in your garage or on your patio deck. You can reach Sterling Pools at 888-973-0274 to discuss your swimming pool needs.
When you are in the Wylie, Sachse, Murphy, and Rowlett area and you need pool cleaning or equipment repairs, call Sterling Pool Service at 888-973-0274 or Contact Us online. We are your proven pool experts!