Any pool owner is always excited at the prospect of having a swimming pool to enjoy and relax in whenever they want to. However, it is also no secret that it can be quite time-consuming to properly maintain a pool, and having to make sure that everything in it and around it is in order can be quite tedious. In order to help save people from the prospect of having to spend more time monitoring and maintaining a pool than actually swimming in it, many companies have introduced electronic pool control centers.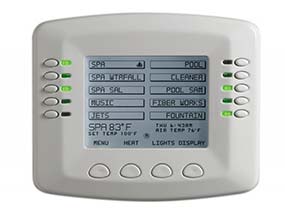 These are often sleek electronic panels with a digital display that provides pool owners all the information that they may need to ensure that their pool is operating properly and that the water is in top condition. These control systems can provide information on the water's temperature, pH levels, sanitation information, as well as whether all the other equipment installed in the pool such as its pumps and filters are all running as they should. There are also models that provide automation of certain processes, with functions that can include: turning pool lights, jets, and heat pumps on or off; recirculation of pool water; sending cleaning chemicals into the pool; filtration; and even alarms and other safety interlocks. By having the relevant information neatly and clearly displayed, it not only takes out the guesswork from pool maintenance and pool use, but it also makes the whole process hassle-free.
If you would like to gain this convenience and have your own pool control center installed, make sure to enlist the help of professional technicians such as those from Sterling Pool Service to help you determine which model is right for you and your pool. Having provided top-quality services to pool owners in Sachse, Wylie and Murphy and Surrounding Areas for more than 32 years, Sterling Pool Service can guarantee that our licensed and highly-trained specialists will help you in making sure that your very own control system is installed and set up properly, ready to be used and enjoyed.
For all of your pool control center needs, give us a call at 888-973-0274. Our lines are open from 8:00 am to 4:30 pm, Mondays through Fridays, and our friendly and helpful staff will be happy to answer all of your inquiries. Make sure to also inquire about our pool diagnosis and pool renovation bids! Contact us today!
Questions

or Need

Quote?

Our service area includes Sachse, Wylie, Murphy, Plano, Allen, Richardson, Garland and Dallas. Fill out the form below and we will contact you shortly.
---