Let's Talk Rain and Pool Chemicals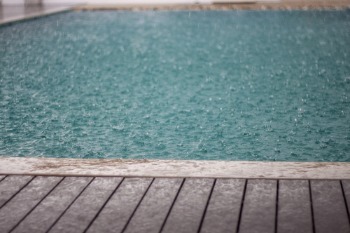 Here in Dallas, we have received a continual cycle of rain for months. This makes it a challenge to keep pool chemicals balanced. But how does this affect your pool? Take for example a pitcher of lemonade. The first glass you pour is a perfect balance of sugar, lemon, and water. When the pitcher is two-thirds gone, you decide to add water but no sugar and lemon. The lemonade is now diluted and cannot taste the same because the essential ingredients have not been added back.
This is what happens when it rains or the pool loses water and you have to add more to the pool. The maintenance chemicals are diluted and as a result, the pool can develop algae or other issues. Just as weekly pool cleaning is vital to the health of your pool, so is weekly water testing and adjustment of the pool chemicals. At Sterling Pool Service, we are your pool experts in the Sachse, Wylie, Murphy area. Contact us today at 888-973-0274 to discuss your swimming pool needs.