Swimming pools of any shape and size all require regular cleaning and maintenance. At least once or twice a year, swimming pools should be fully drained, and the water should be replaced. While a pool is empty, this is the perfect time for pool owners to perform a complete inspection of the facility to check for cracks, broken tiles, or stains in the pool itself, and also to perform additional maintenance and calibration on other pool equipment and machinery.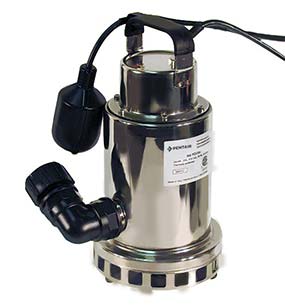 But how exactly does one drain, say, 25,000 gallons of water from a medium-sized swimming pool? In these situations, the use of a submersible utility pump (also known as "sump pumps") will be able to provide you the solution you need. Submersible pumps usually come in durable frames and compact designs that allow it to drain standing water in swimming pools or any enclosed space, thus making a sump pump also handy to have in case of situations such as indoor flooding.
To drain your pool using a sump pump, you will have to attach a rubber hose to it which then leads to the appropriate cleanout or drain area, as dictated by local town or city regulations. Afterward, the sump pump is then lowered into the pool, and plugged into a power source so that the motor can start directing water to the correct outlet. Most sump pumps can drain water until there are only a few inches left at the very bottom that will need to be drained manually.
If you are interested in owning a sump pump for your pool, feel free to contact your professional pool equipment company, Sterling Pool Service. We have been providing pool maintenance services and equipment to residences and establishments in Dallas County, TX for over 32 years. Our team of licensed and highly-trained technicians is capable of recommending and providing the best submersible utility pumps that are appropriate for your needs.
So give us a call at 888-973-0274, from 8:00am to 4:30pm Mondays through Fridays, or send us a message via our online contact form. Our friendly and knowledgeable staff are happy to answer all of your inquiries. Make sure to also inquire about our pool diagnosis and pool renovation bids!