Every pool system is composed of a number of parts and equipment, some requiring more maintenance than others. While most of these elements tend to be durable, some of them tend to undergo more wear and tear, such as in the case of valves and switches. With valves, for example, it is not uncommon for handles to require replacement after several years or so.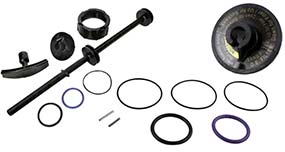 For pool owners with more pool plumbing know-how or those who simply prefer to do it themselves, a variety of valve kits are available on the market. These kits normally contain spare parts for certain sections of an assembly and contain everything that one might need in order to properly replace a section. In cases where an entire valve needs to be replaced, however, there are also valve kits that contain the entire assembly which has been pre-plumbed in order to significantly reduce installation time, as well as to increase the quality of the installation.
If you require a specific kit for a repair job that you would like to perform yourself, you can consult with your professional pool equipment and maintenance company, Sterling Pool Service, in order to determine which kit best suits your purposes. Having provided top-quality equipment and services to pool owners in Dallas and Allen for more than 32 years, our team of licensed and highly-trained technicians will help you to make pool maintenance as hassle-free as possible with the help of proper hardware and plumbing installations.
For any of your pool valve needs, give us a call at 888-973-0274, from 8:00 am to 4:30 pm Mondays through Fridays, or send us a message via our online contact form, and our friendly and helpful staff will be happy to answer all of your inquiries. Make sure to also inquire about our pool diagnosis and pool renovation bids!
Questions

or Need

Quote?

Our service area includes Sachse, Wylie, Murphy, Plano, Allen, Richardson, Garland and Dallas. Fill out the form below and we will contact you shortly.
---