Common Questions About Salt Cells
As swimming pool owners are learning more about alternative methods of sanitation, we at Sterling Pool Service are hearing more questions about proper maintenance of salt cells. A properly maintained salt cell will last 3-5 years; an improperly maintained cell can fail in a year. Considering that salt cells are relatively expensive, we want to make sure you know the basics about prolonging their lifespan so you'll get the most value for your dollar.
Why do salt cells fail?
Salt cells fail for a few different reasons, the main reason being lack of proper maintenance.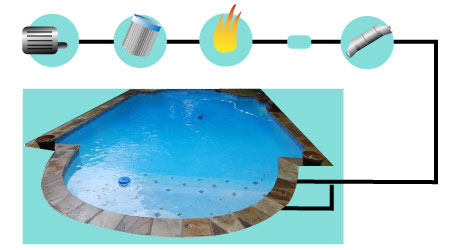 It is very important to check the cell regularly for excessive buildup to ensure excess calcium doesn't become caked on the metallic plates. Use a cleaning kit designed for salt cells to keep the plates clear of build-up. A common cause of salt cell failure is improper water balance. Be sure to test your pool water regularly using a test kit designed for salt water pools.
How can I test to see if my cell is working properly?
The easiest way to do this is to test your water balance regularly for the pH and chlorine levels. If the chlorine level is dropping it might mean your salt chlorine generator is not producing enough chlorine. Most systems come with some kind of alert to notify you of low salt and chlorine levels.
How often should I clean my cell?
Proper maintenance is the key to the longevity of your salt cell. We recommend inspecting the cell once a week during heavy use and every other week during the off season. If you notice any build-up, clean as necessary.
What you should know about using a salt system.
If you have flagstone coping, it needs to be sealed yearly. Per salt cell manufacturer, a newly plastered pool should not have the salt cell installed during the new plaster care process.
Call us at 888-973-0274 to discuss your salt system or if you would like to schedule a salt cell cleaning.
Questions

or Need

Quote?

Our service area includes Sachse, Wylie, Murphy, Plano, Allen, Richardson, Garland and Dallas. Fill out the form below and we will contact you shortly.
---