All pools require a basic set of equipment and tools in order to properly function, but for those who would like to add a bit more drama or a touch of luxury to their swimming pools, adding water features is a must.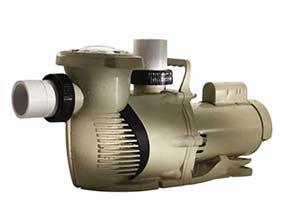 Some of the most common pool water features are waterfalls and cascades, and there are also laminar jets which are clear, uniform arcs of water that originate at a point within or near the pool, and end in the pool water. These are particularly attractive and can be paired with certain types of lighting for an even more exciting look. In order to pull off these features, a more specialized set of pumps and motors will be required.
Swimming pool specialty pumps are specifically designed to be able to handle the extra load that additional water features require, as well as to be able to give off the specific effect that the pool owner is looking for. Some models are even programmable to turn water features on and off and adjust valves and pressure accordingly, and some can even be made to function according to specific cues, such as those performed in aquatic light shows.
The installation of specialty pumps requires the service of professional pool equipment and maintenance companies such as Sterling Pool Service. We have been providing top-quality equipment and services to pool owners in Dallas and Allen, for more than 32 years, and our team of licensed and highly-trained technicians has the expertise to help you in building the swimming pool of your dreams. They can provide you with crucial advice when selecting the equipment that is appropriate for your pool design, and also assist you with its installation, operation, and maintenance.
So if you want to dress up and enhance your pool, give us a call at 888-973-0274, from 8:00am to 4:30pm Mondays through Fridays, or send us a message via our online contact form. Our friendly staff will be happy to answer all of your inquiries. Make sure to also inquire about our pool diagnosis and pool renovation offers!
Questions

or Need

Quote?

Our service area includes Sachse, Wylie, Murphy, Plano, Allen, Richardson, Garland and Dallas. Fill out the form below and we will contact you shortly.
---