Pool Plaster Renovation in Sachse, Wylie and Garland
Selecting the Plaster for Your Pool Remodel
Today's pool owners have many reliable and beautiful swimming pool plaster options available. The most popular two finishes Sterling customers choose are classic white plaster, the most economical, or your color choice of QuartzScapes plaster. The choices can be exciting and also somewhat daunting, without reliable information. Sterling Pool Service can help you make the right choice for your swimming pool remodel project.
Water Chemistry Defined – The importance of balanced water chemistry cannot be overstated in its role in maintaining the appearance of quality pool and spa surface products.
Classic White Plaster, a Tried & True Pool & Spa Surface Finish
Classic white plaster is the tried and true pool and spa surface finish. White plaster has been around as long as people have been building swimming pools and it remains a popular choice in spite of the myriad of choices that have come into the market in recent years. Its simple combination of white cement, white marble aggregate and water make for an economical choice that will give you that classic swimming pool look.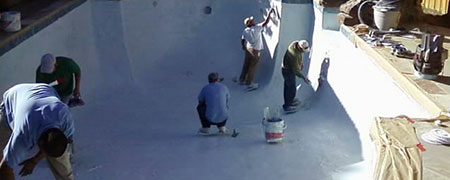 When filled with water, pools and spas surfaced in white plaster create a brilliant, clean appearance that is very smooth to the touch. A long-time favorite for many homeowners, it remains the most affordable pool finish product on the market today. Standard white plaster is a reliable product when installed by a quality contractor and properly maintained.
White plaster is susceptible to all water conditions, especially from attacks of improperly maintained or fluctuating chemical conditions; therefore, during the life of the plaster it will change in appearance. These changes may be subtle or minor, perhaps slight shading or scaling, or far more dramatic in the form of pronounced staining, etching, cracking, or delaminating in extreme cases. When properly maintained, plaster life is 7-10 years.
Questions

or Need

Quote?

Our service area includes Sachse, Wylie, Murphy, Plano, Allen, Richardson, Garland and Dallas. Fill out the form below and we will contact you shortly.
---