These days, most people always have their smartphones in hand or are in front of a computer. We can do almost anything and everything on these devices, and whether it's to monitor the status of a flight, keep track of our expenses, help us exercise or diet, or even create artwork, you can almost be sure that there's an app or program for that. So if you can do all of that from your phone, then why not monitor and maintain your swimming pool using your device, as well?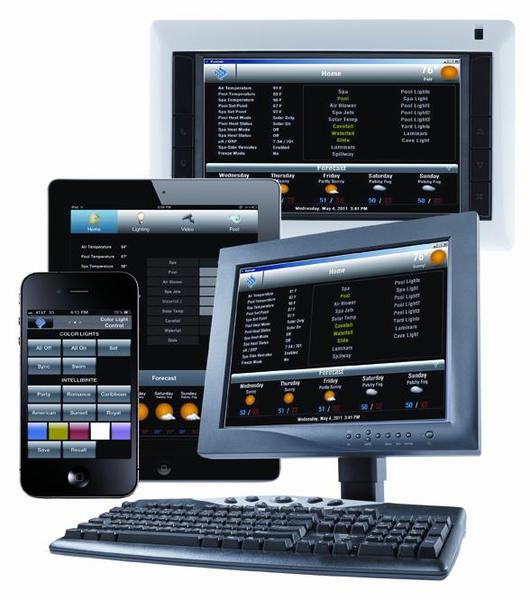 Thanks to developments in pool technology, it is now entirely possible to monitor and automate pool maintenance processes directly from your computer or phone. No need to have another control panel to look at, and no need to have another remote control to look for among the pile of the many other remote controls you probably already have for your other appliances.
With these new pool software interfaces, you can monitor the status of the water in your pool and be able to determine its temperature or pH levels. You can now even use your device to perform a number of tasks, ranging from turning pool lights on and off, setting the heater, controlling stream jets, or even facilitate maintenance processes such as chlorination and sanitation. These interfaces can even help you determine if other pool equipment such as filters and pumps are all functioning properly, and all while you're sitting in the living room or in bed!
If you would like to be able to operate your pool remotely and conveniently, then it's time to enlist the help of pool equipment professionals such as Sterling Pool Service. We have been providing the highest quality equipment and pool maintenance services to residences and businesses in Sachse, Wylie and Murphy and Surrounding Areas for more than 32 years, and our team of licensed and highly-trained technicians can assist you in the selection, installation and operation of the pool software interface of your choice. With our help, all you'll have to do is sit back and start using your new tools.
So give us a call at 888-973-0274, from 8:00 am to 4:30 pm Mondays through Fridays, and our friendly staff will be happy to answer all of your inquiries. You can also get in touch via our online contact form. Make sure to also inquire about our pool diagnosis and pool renovation bids!