Having an in-ground pool constructed on your property can be quite an investment, as you will be adding a permanent feature to your home or facility. After its construction, however, you will also have to install the appropriate machinery and equipment to ensure that the pool and the water in it is always clean and ready to be enjoyed by you and your family or guests.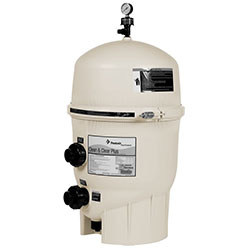 Due to the fact that the main area of the pool is below ground level and its plumbing is constructed differently, an in-ground pool will require a different type of water filter as compared to its above-ground counterpart. First of all, in-ground pool filters are larger than the ones meant for above ground pools, and they are also specially constructed to be able to handle the flow rates from in-ground pumps. There are also a variety of filtering materials available for in-ground filters, and the installation can make use of a cartridge, sand, or diatomaceous earth.
When choosing an in-ground filter for your pool, it is best to refer to the expertise of your pool equipment and service professional, Sterling Pool Service. We have been providing top-quality equipment and services to homes and businesses in Dallas and Plano for more than 32 years, and we can help you make sure that your pool is always at its best by helping you add and install the correct equipment to it. Our team of licensed and highly-trained pool technicians can recommend which type of in-ground filter is best for your property, as well as assist you with its installation and operation.
If you would like to install an in-ground filter for your swimming pool, just give us a call at 888-973-0274, from 8:00 am to 4:30 pm Mondays through Fridays. You can also drop us a line via our online contact form, and our friendly and knowledgeable staff will be happy to answer all of your inquiries. You can also inquire about our pool diagnosis and pool renovation bids!
Questions

or Need

Quote?

Our service area includes Sachse, Wylie, Murphy, Plano, Allen, Richardson, Garland and Dallas. Fill out the form below and we will contact you shortly.
---