In all types and sizes of swimming pools, proper and adequate installation of check valves is an important factor. Check valves are basically valves that usually allow fluids to flow through it in only one direction, preventing it from flowing backward to where it originated from. In a pool system that may include chlorinators, filters, and other water features, check valves to make sure that certain fluids don't mix and are directed properly.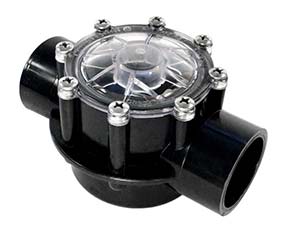 For example, for swimming pools that make use of chlorination devices, concentrated chlorine should only flow into the main body of the pool. A check valve ensures that the chemical doesn't get pushed back through the plumbing system by the water from the pool, as it can be harmful to equipment and machinery. Check valves are also useful for regulating water levels on spas to make sure that it doesn't drain back through the pipes when the pumps are turned off, as well as for pools where the pool equipment is at a different height than the top of the pool.
When setting up a new pool or repairing an old one, it is important to know the correct size and configuration of check valves to use. These parts require professional installation as well, so make sure to talk with your trusted pool equipment and maintenance company, Sterling Pool Service. Having provided top-class services to homes and businesses in North Dallas and surrounding areas for more than 32 years, our team of licensed and highly-trained technicians can help you make these important decisions, as well as assist you with installation and operation.
For any of your pool valve needs, give us a call at 888-973-0274, from 8:00 am to 4:30 pm Mondays through Fridays, or send us a message via our online contact form, and our friendly staff will be happy to answer all of your inquiries. You can also inquire about our pool diagnosis and pool renovation bids!
Questions

or Need

Quote?

Our service area includes Sachse, Wylie, Murphy, Plano, Allen, Richardson, Garland and Dallas. Fill out the form below and we will contact you shortly.
---