Pools that Have Floated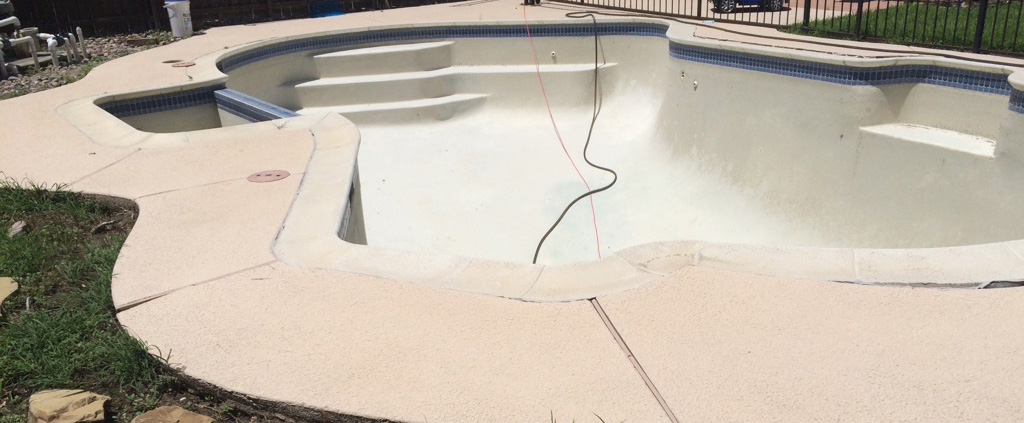 North Texas often has huge fluctuations in rain. In February 2018 we set a record with ten inches of rain. Many pools in North Texas washed in from flower beds and yards. High winds also dumped a large amount of debris. Many pool owners believe the pool needs to be drained and cleaned; however, when the ground is this saturated, the pool can "float."
What Happens When a Pool Floats
A pool floats when the water table rises in the ground after weeks of heavy rain. Water in a pool keeps it from rising.  A pool that has been drained may rise – "float" - causing irreparable damage to the pool itself and the area surrounding it. Because this is an entire structure, the plumbing, shell, etc., are affected and cannot be easily repaired. Two options are available:
Unfortunately, there is little you can do if this happens to your pool in most cases. You typically have a few options:
Dig out the pool and rebuild
After heavy rains as stated above, we can turn a pool around by cleaning it (which may take several times), rebalancing chemicals (now diluted by rain), and filter clean(s). If you are needing to have your pool checked after the winter to make sure it did not sustain damage or you want to begin your weekly maintenance, call 888-973-0274 or complete our contact form to have one of our associates contact you.
Questions

or Need

Quote?

Our service area includes Sachse, Wylie, Murphy, Plano, Allen, Richardson, Garland and Dallas. Fill out the form below and we will contact you shortly.
---