One of the most important factors in keeping a pool in top condition is to make sure that the water is sufficiently circulated throughout the entire pool area, from top to bottom. To be able to do this, it is necessary to install pumps and filters that can produce high amounts of pressure so that the water can be propelled at higher speeds, which then results in optimal circulation.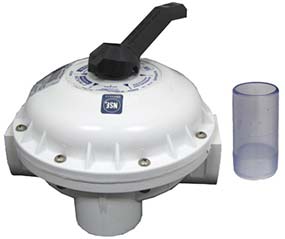 To make sure that your pool equipment can handle this requirement, though, you'll need to attach high flow valves as well. Having the correct valves prevents leaks in the plumbing as a result of high pressure. This facilitates your pool equipment in efficiently distributing cleaning chemicals such as chlorine throughout the pool to keep your facility looking great. It also eases the strain on filters and pumps as it will require less power for them to direct water through the cleaning system.
If you would like to keep your pool looking perfect at all times, investing in high flow valves is a must. These require professional installation, however, so make sure to talk with your professional pool equipment and maintenance company, Sterling Pool Service. We have been providing top-quality services to residents and businesses in Dallas for more than 32 years. Our team of licensed and highly-trained technicians can help you in making pool maintenance as hassle-free as possible with the help of proper valving.
For any of your pool valve needs, give us a call at 888-973-0274, from 8:00 am to 4:30 pm Mondays through Fridays, or send us a message via our online contact form. Our friendly and knowledgeable staff will be happy to answer all of your inquiries. Make sure to also inquire about our pool diagnosis and pool renovation bids!
Questions

or Need

Quote?

Our service area includes Sachse, Wylie, Murphy, Plano, Allen, Richardson, Garland and Dallas. Fill out the form below and we will contact you shortly.
---