Any swimming pool, regardless of size, shape, or additional features, makes use of two basic piping systems that regulate water flow, and those are known as suction and return. The suction side is basically all the pipes coming from the pool, and can include elements such as skimmers for removing dirt, as well as drains. Meanwhile, the discharge, or return side, would be the pipes going from the pool pumps that are meant to direct water back into the main pool.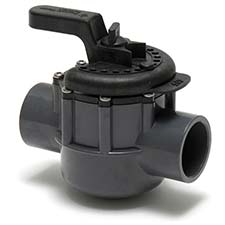 In a basic circular like this, it is important to be able to control water from the suction side to make sure that water that needs to be disposed of goes where it should and doesn't get directed back with the rest of the clean pool water. This function is mainly controlled by what is known as a diverter valve. These types of valves help make water flow management easier and are made of durable materials so that pool owners won't have to worry about maintenance.
When setting up a new pool or repairing an old one, it is important to know which size and configuration of diverter valves to use. These valves also require professional installation, so make sure to talk to your trusted pool equipment and maintenance company, Sterling Pool Service. Providing top-class services to homes and businesses in North-East Dallas for more than 32 years, our team of licensed and highly-trained technicians can help you make these important decisions, as well as assist you with installation and operation.
So give us a call at 888-973-0274, from 8:00 am to 4:30 pm Mondays through Fridays, or send us a message via our online contact form, and our friendly staff will be happy to answer all of your inquiries. You can also inquire about our FREE weekly service agreement and FREE pool renovation bids!
Questions

or Need

Quote?

Our service area includes Sachse, Wylie, Murphy, Plano, Allen, Richardson, Garland and Dallas. Fill out the form below and we will contact you shortly.
---