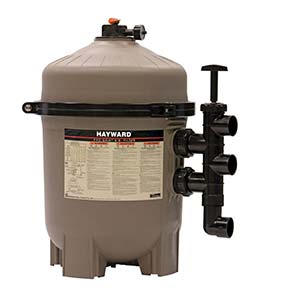 Filters are an important part of proper pool maintenance and choosing one that best suits your facilities and needs is crucial. There are many types of filters to choose from, ranging from cartridge type filters, to sand filters, to what is known as diatomaceous earth, or DE, filters. Among these options, DE filters are the most effective and hence are also the most desirable.
DE filters are normally tanks that contain certain amounts of DE powder. This powder is comprised of the fossilized remains of a type of hard-shelled algae known as diatoms. Because of the miniscule size of the DE particles, the DE filter is able to filter out particles as small as one to three microns as water is passed through the filter. This results in much cleaner and much more sanitary pool water as the vast majority of contaminants and even bacteria can be removed from the water and disposed of later on.
When choosing a DE filter for your pool, it is best to enlist the help of pool equipment and service professionals such as Sterling Pool Service. Having provided top-quality equipment and services to residents and businesses in North-East Dallas for more than 32 years, we can help you make sure that your pool is always in top shape by helping you add the correct equipment to it. Our team of licensed and highly-trained pool technicians can recommend which type of DE filter is best for your property, as well as assist you with its installation and operation.
If you would like to install a diatomaceous earth filter for your swimming pool, be sure to give us a call at 888-973-0274, from 8:00 am to 4:30 pm Mondays through Fridays. You can also send us a message using our online contact form, and our friendly and knowledgeable staff will be happy to answer all of your inquiries. You can also inquire about our pool diagnosis and pool renovation bids!
Questions

or Need

Quote?

Our service area includes Sachse, Wylie, Murphy, Plano, Allen, Richardson, Garland and Dallas. Fill out the form below and we will contact you shortly.
---