Keeping one's swimming pool clean and looking great at all times is always a top priority for pool owners, and what plays the biggest part in making this happen is the pool's filter system. Two of the most commonly used types of pool filters are: the sand filter, which makes use of silica sand and has been a popular choice for decades; and the more recent and highly effective diatomaceous earth, or DE, filter which uses fossilized exoskeletons of algae known as diatoms.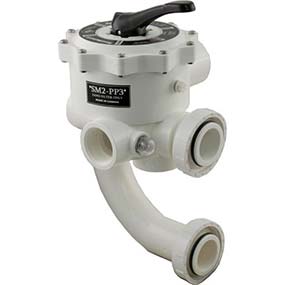 In order to remain effective at cleaning your pool, however, both these types of pool filters also require regular maintenance which is done via the process of backwashing. Backwashing is when water is moved in the opposite direction that it normally does in order to "knock off" the dirt from the sand and DE particles, and then redirecting the waste water into the appropriate external drain. To make backwashing easier, it is highly recommended to use diatomaceous earth and sand valves (also known as multiport valves) in your filter system. This specialized valve makes it possible for pool owners to easily clean their DE or sand filters with the simple pull of a lever, as the valve ensures that the water in the filter is properly diverted to the correct chambers, so that no contamination of clean water occurs during the backwashing and no sand is lost or released back into the pool. 
The installation of diatomaceous earth valves, sand valves, and multiport valves is best performed by your professional pool equipment and maintenance company Sterling Pool Service. We have been providing top-quality services to residents and businesses in Dallas County for more than 32 years, and our team of licensed and highly-trained technicians can help you in making pool maintenance as hassle-free as possible with the help of proper valving and installation. 
For any of your pool valve needs, give us a call at 888-973-0274, from 8:00am to 4:30pm Mondays through Fridays, or send us a message via our online contact form. Our friendly and helpful staff will be happy to answer all of your inquiries. Make sure to also inquire about our pool diagnosis and pool renovation bids!
Questions

or Need

Quote?

Our service area includes Sachse, Wylie, Murphy, Plano, Allen, Richardson, Garland and Dallas. Fill out the form below and we will contact you shortly.
---