How Often Should I Drain My Pool?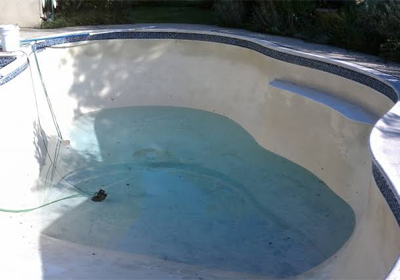 Many individuals who enjoy their swimming pools on a daily basis do not realize that periodic water changes are part of the process for maintaining a healthy pool. That requires draining your pool on occasion. How often? The experts from Sterling Pool Service provide key insights to answer that question.
Why should I drain my pool?
Despite most pools having a filtration system, pools need to be drained and refilled at some point. Even with proper pool maintenance, years of chemicals and the impact of landscaping around your pool (leaves, phosphates, etc.) take a toll. So does dead skin, sunscreen, oils, and -- for some pool owners -- pet dander and pet hair. All of this creates pool water that can no longer be effectively treated.
When should I drain my pool?
Pool industry experts recommend you drain your pool and refill it every five to seven years. No two pools are alike, so there is no set number at which you must drain your pool. When your pool stops responding to maintenance chemicals or specialty treatments, you should consider replacing your pool water with fresh water. Be sure that you rebalance your pool chemicals when filled.
Note: Pools should never be drained after significant rain or storms because your pool could float.
How do I drain my pool?
No two pools are alike when it comes to plumbing and how it was built. A professional pool service company should be consulted to be sure that it is drained properly. When you need our help, contact us online or give us a call at 888-973-0274. Sterling Pool Service can handle all of your swimming pool needs.