After the Storm Hits Your Pool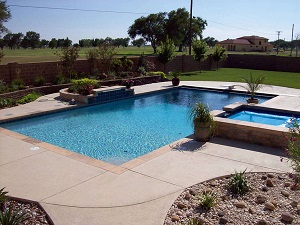 The weatherman was wrong, and that storm turned severe. It dropped a tornado through your back yard, ripping up the back yard, part of the house and trashing the pool.
What do you do?!! 
First and foremost, take care of your house!!! It is very important to get any and all construction and restoration work finished before addressing the pool. Once you turn your attention to the pool, it is going to have leaves, limbs, twigs, grass, glass, bricks, stone, shingles, nails, and glass in it. In addition to the debris blown in by the storm, there will be items that wind up in your pool because of the construction and restoration workers. That is inevitable.
When it is time to restore your pool, you need to make an action plan. You can look at the brown/black water and possibly not see anything but that. You want the water to clear up ASAP but it is not a good idea to do that on your own. Doing this has the potential to pass glass, nails, stones and the like through the pipes and into the cleaning system. That will wreak havoc on the internal parts of your system.
Instead, It is best to find a trustworthy local service provider to handle your pool care after a devastating storm. For customers in Collin and Dallas counties, the proven professionals from  Sterling Pool Service have a proven track record of turning disasters back into dreams. Call us at 888-973-0274 to discuss your swimming pool needs or hit this link and see the pools we have saved.
When you are in the Wylie, Sachse, Murphy, and Rowlett area and you need pool cleaning or equipment repairs, call Sterling Pool Service at 888-973-0274 or Contact Us online. We are your proven pool experts!