It is important to properly maintain one's pool filtration system as this is what ensures the cleanliness and attractiveness of your swimming pool. However, the filters themselves also require regular cleaning and maintenance to get rid of waste water and particles, and prepare the filter for further use. Of the several types of pool filters, however, sand filters and diatomaceous earth (or DE) filters require special types of valves known as multiport valves in order for them to operate efficiently.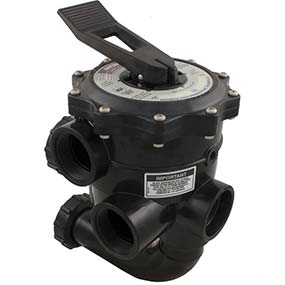 Multiport valves allow water to flow through different areas within the filter and control its specially-built compartments, depending on the function that you are trying to perform. These valves normally have a number of settings to help make maintenance easier for pool owners. Among these settings, it usually includes FILTER, BACKWASH, and RINSE, which is basically for turning the filter on, and for cleaning it out by reversing the flow of water. There's also a PUMP which brings unfiltered water into the filter and RETURN which sends filtered water back to the pool. There's also a RECIRCULATE function when you don't want the water to be sent into the filter during certain chemical treatments, WASTE that sends dirty water into an external drain and CLOSED for stopping all flow of water through the filter and the pool. This last function of multiport valves is normally for major pool cleanups, or in preparation for draining for the winter months.
The installation of multiport valves is best performed by your professional pool equipment and maintenance company, Sterling Pool Service. We have been providing top-quality services to residents and businesses in Dallas County for more than 32 years, and our team of licensed and highly-trained technicians can help you in making pool maintenance as hassle-free as possible with the help of proper valving.
For any of your pool valve needs, give us a call at 888-973-0274, from 8:00 am to 4:30 pm Mondays through Fridays, or send us a message via our online contact form, and our friendly and helpful staff will be happy to answer all of your inquiries in a timely and complete fashion. Make sure to also inquire about our pool diagnosis and pool renovation bids!
Questions

or Need

Quote?

Our service area includes Sachse, Wylie, Murphy, Plano, Allen, Richardson, Garland and Dallas. Fill out the form below and we will contact you shortly.
---