Swimming pools are fun and exciting and are always a delight during the hot summer months as they allow sunbathers to cool off and relax. Besides being able to have some fun in the sun without traveling all the way to a beach, swimming pools are also one of the features of a property that get noticed first. They also add significant value to a home or establishment. Because of this, it is important to be able to keep your pool well-maintained and in perfect condition, as a poorly-kept pool can also become an eyesore and can even pose potential health risks to swimmers.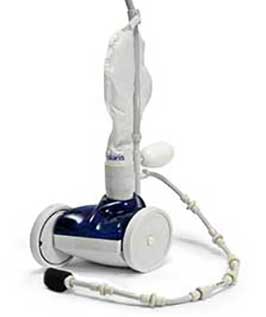 Pool maintenance can be a tough job, but thanks to current pool cleaning technologies such as automatic robotic pool cleaners, it doesn't have to be. These days, it is entirely possible to flip on a switch and let one of these automated cleaners do its job. An automatic robotic cleaner is basically a machine that travels around the floor of the pool as it scrubs and picks up dirt and debris using a system of brushes and rollers. A self-contained pump then directs all the collected dirt into a bag which can later be emptied out or replaced. Some models even have programmable timers, so that it can clean your pool while you're asleep or at work, and switch itself off after a designated amount of time.
If you would like to be able to clean your pool easily, then an automatic robotic pool cleaner is right for you. When purchasing one, make sure to speak with professional pool equipment and maintenance companies such as Sterling Pool Service. Having provided top-quality equipment and services to pool owners in North Dallas and surrounding areas for more than 32 years, our staff of licensed and highly-trained technicians can provide you with the indispensable advice you on which cleaners would be best suited to your pool and your needs. We can also assist you in the pool's installation and set up in order to make the entire process hassle-free for you.
So give us a call at 888-973-0274, from 8:00 am to 4:30 pm Mondays through Fridays, or drop us a line via our online contact form. Our friendly and knowledgeable staff will be happy to answer all of your inquiries. Make sure to also inquire about our pool diagnosis and pool renovation bids!
Questions

or Need

Quote?

Our service area includes Sachse, Wylie, Murphy, Plano, Allen, Richardson, Garland and Dallas. Fill out the form below and we will contact you shortly.
---