Pool Deck Crack and Joint Repair
There is an expansion joint around the perimeter of your swimming pool in between your coping stones and your pool deck.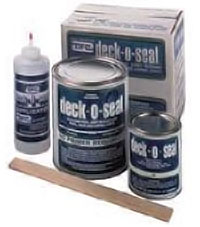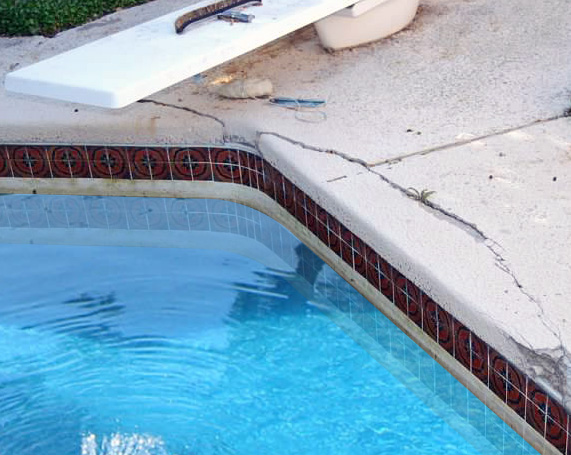 If this joint is in poor condition, water can get down behind the pool shell and weaken the concrete joints in between your coping stones, and eventually cause more pool problems. Once applied, all traffic (including pets) must be kept away for 24 hours to avoid damage.
Provides a uniform, watertight seal.
Allows expansion & contraction during temperature changes.
Resists abrasion, weathering & moisture, elevated temperatures, will not cause discoloration.
Stays Flexible. Won't become brittle or crack due to ultra-violet exposure.
Available in Dura-White, Stone Gray, Desert Tan, Jet Black and Life-Like Redwood.
Outstanding resistance to weather-aging and won't discolor.
Not Affected by Pool Chemicals.
Deck-O-Seal
Deck-O-Seal is a trusted name in the swimming pool business for swimming pool deck and joint expansion issues. Using Deck-O-Seal is the best way to seal cracks, joints, and expansion joints around the swimming pool and it replaces any signs of pool caulk damage. Not only does Deck-O-Seal help maintain the beautiful look of your swimming pool, but it also prevents water from going between the deck and the pool coping.
Questions

or Need

Quote?

Our service area includes Sachse, Wylie, Murphy, Plano, Allen, Richardson, Garland and Dallas. Fill out the form below and we will contact you shortly.
---
Deck-O-Seal is a sealant that can be used around the swimming pool and provides a firm, weather-tight seal that resists weathering and moisture. It takes years of experience and skill to properly apply the Deck-O-Seal so that it does not gum up, collapse, or be unleveled. It is an art that Sterling Pool Service has mastered over 32 years.
Contact Sterling Pool Service to learn how we can replace the Deck-O-Seal around your pool. We also offer pool cleaning and weekly pool maintenance.
Contact Sterling Pool Services for Deck Repairs and Weekly Pool Maintenance
Contact us for your Deck-O-Seal and pool deck repair estimate at 888-973-0274. Sterling Pool Service serves the areas of Sachse, Wylie and Murphy, TX with swimming pool cleaning and maintenance.