Pool Timer Upgrades

A swimming pool is a great way to stay cool in the summer and increase your home's value. However, taking care of a swimming pool can be a very challenging task. Chemicals should be balanced weekly and the pool's equipment checked to be sure there are no plumbing leaks and that the filter pressure is good.
Fortunately, there are many different services and pool products that can make your maintenance routine easier. A good example is a pool timer, which is a device that keeps your equipment running at the proper times.
The Role of a Pool Timer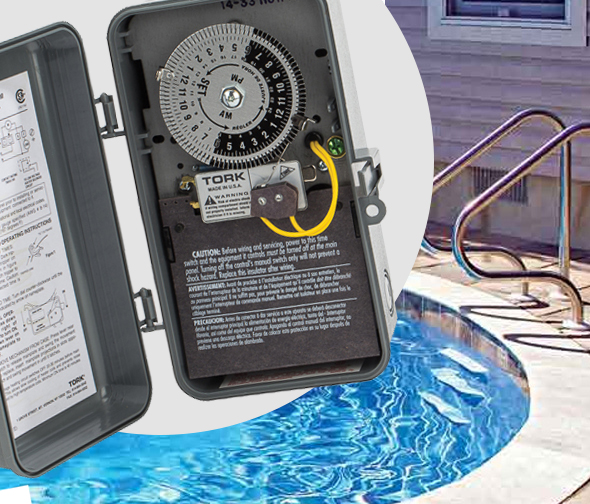 Pool Timers and Computers
Keeping the pool equipment on 24/7 is a waste of electricity and can cause a pool pump or pool motor to wear out before their time. Installing pool timers or a computer instead of turning the system on manually is a smart use of a pool owner's time and money. For the hotter months, it needs to run for at least eight hours a day and for the cooler months for six hours. If the pool timer is only set to run 4-6 hours a day or at night during the summer or high temperatures, it will not circulate the water long enough for the pool chemicals to be effective. This can create algae and cost a pool owner more money to get rid of the algae.
A pool timer is connected to one the pool pump and pool motor. It gives you the ability to control the length of time your pool pump is running. This is good news for pool owners who forget to shut off their pool pump and then turn it back on again at the proper time. Some pool owners prefer a timer with a freeze protection to prevent pool equipment and pipes from freezing in winter and causing major damage.
Questions

or Need

Quote?

Our service area includes Sachse, Wylie, Murphy, Plano, Allen, Richardson, Garland and Dallas. Fill out the form below and we will contact you shortly.
---
With a quality pool timer, pool maintenance is less of a hassle and creates a healthy pool environment.
Find Quality Pool Timer Products and Reliable Pool Services at Sterling Pool Service
If you are ready to improve your pool's functionality and longevity with a new pool timer, contact Sterling Pool Service today at 888-973-0274. We have been in the swimming pool business for more than 32 years and we are an authorized dealer and distributor of quality swimming pool equipment and brands. Because of this, you can trust us to help you look for a pool timer that suits your pool and budget.
Our pool cleaning services are available in Sachse, Wylie, Murphy, Plano, Allen, Richardson, Garland, and Dallas, Texas.