No matter what type or size your pool may be, it will require certain sets of equipment in order to keep it running properly. There will be motors, pumps, filters, heaters, lights, and possibly even some specialty equipment, depending on the number and complexity of the water features that have been added to your poolscape. As one can expect, all of this equipment runs on electricity or gas. Keeping everything running regularly can lead to skyrocketing power bills, which is never a pretty sight, no matter how dazzling your pool may be.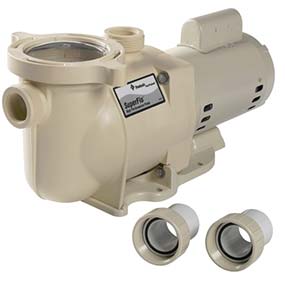 This is why high efficiency pumps are recommended for almost any type of pool. These types of pumps are specifically designed to help pool owners save on costs, and are therefore very durable and set up for easy maintenance. This translates to savings as the pump has a longer lifespan and will require little to no servicing. On top of that, the motors used in high efficiency pumps comply with the latest energy-saving standards, and make use of technology that allows it to adjust according to the load and function of the pool, thus making sure that it doesn't consume more energy than what's necessary.
If you are interested in saving on energy costs for your swimming pool, it is highly recommended that you enlist the assistance of professional pool equipment and maintenance companies such as Sterling Pool Service. Having provided top-class service to pool owners in the North-East Dallas area for more than 26 years, our team of licensed and highly-trained technicians can provide you with crucial advice when selecting the pump that's right for your pool, and can also assist with its installation and operation in order to make the entire process as hassle-free as possible for you.
So give us a call at 888-973-0274, from 8:00am to 4:30pm Mondays through Fridays, and our friendly staff will be happy to answer all of your inquiries. You can also inquire about our FREE weekly service agreement and FREE pool renovation bids! Contact Sterling Pool Service today!
Questions

or Need

Quote?

Our service area includes Sachse, Wylie, Murphy, Plano, Allen, Richardson, Garland and Dallas. Fill out the form below and we will contact you shortly.
---