Why You Should Hire a Pool Service Company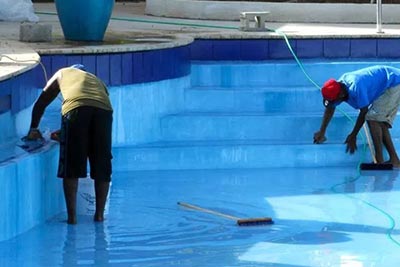 If you don't know how to clean and take care of your own swimming pool, your best option would be to hire a professional pool service company. Sterling Pool Service is your reliable pool company. We free up your responsibilities so you don't have to worry about the health of your swimming pool as much.
These are the benefits you get when you hire a reliable pool company to handle your pool maintenance.
Time – is something that most people don't have enough of. Keeping your pool clean and swim ready requires more than just the removal of debris from the surface. If you don't have the spare time to keep a clean pool, you will find yourself resenting your pool instead of enjoying it. If you want the weekends to be spent enjoying your pool instead of having to work on your pool, then you should consider hiring a professional pool maintenance service.
Effort – another reason why professional pool service should be hired to take care of your pool is so you can enjoy the fruits of your labor. Cleaning a pool and keeping it maintained can be a time-consuming task, especially with a larger swimming pool. When you delegate this job to a pool professional, you can spend your weekends relaxing in enjoyment instead of vacuuming, brushing, checking and adjusting chemicals and skimming your pool.
Money –people believe they can save money by doing their own pool cleaning. When you hire someone to maintenance your pool for you, that's when you save money. When you hire a pool service company like Sterling Pools to maintain your pool, we come with all the equipment, chemicals, and tools needed to keep your pool in tiptop condition. When Sterling Pools shows up, you save time and frustration.
When you hire Sterling Pool Service for your pool maintenance service in Sachse, TX and the surrounding areas, you're actually protecting your investment. Sterling Pool Service knows how to maintain your pool the right way by weekly pool maintenance. In addition to weekly pool cleaning and maintenance, Sterling Pool Service can also help you with pool repairs, as well as pool renovations.
Contact us at Contact Sterling Pool Service in the Wylie, Sachse, and Murphy areas to discuss your pool needs at 888-973-0274. We are your pool experts!