Tips on Keeping Your Pool Clean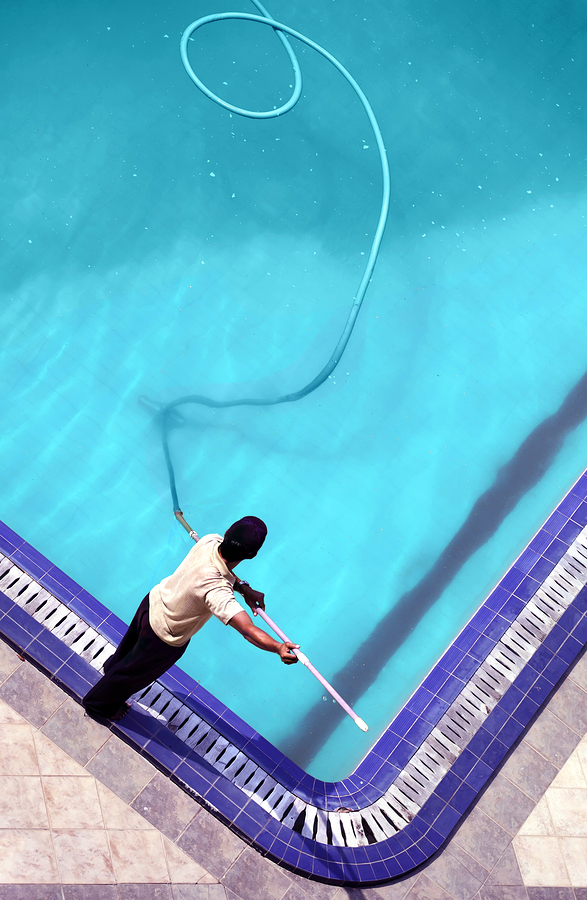 Everyone knows ingesting water at a public pool is a no-no. Who knows what business happens there below the water level? If you don't like to think about the water quality at your local public pool, it's time to point a mirror at your own backyard and check your own pool.
Should you have some doubts on how clean your own pool is, just follow these tips and things will turn out fine.
A. Do Due Diligence
The responsibilities of pool ownership include performing regular chores in order to keep the waters pristine. These chores involve removing solid materials in and around the pool and checking on important parts of the pool system like filters.
Tasks:
Remove leaves or solid items from the pool using a hand skimmer.
Check strainer baskets for solids and then hose them down to dislodge stubborn dirt.
Clean the filter on a regular basis in order to keep it working efficiently.
Use a pool vacuum on the surface of the water to remove fine dirt.
Brush pool walls with stiff or soft brushes to remove algae and calcium build up on the tiles.
During swimming season, run your pump for 8 – 10 hours a day to promote water circulation in the pool.
Check the water level of your pool regularly and keep it from going lower than the level of the skimmer to keep the pump from being damaged

B. Mind Your Pool's Chemistry
The chemical makeup of the water is important since you and your family subject your bodies to what's in your pool. Aside from this, maintaining chemical levels in the pool is important in keeping mold and algae from growing. You wouldn't want to share the pool with germs and bacteria, right?
PH balance is also necessary in order to ensure the comfort of swimmers since the waters of a highly-acidic pool can prove painful to the skin and eyes and can easily break down the stainless railings.
Tasks:
Buy and use chlorine tablets for your pool.
Use a shock treatment solution on your pool at night once a week in order to kill algae and bacteria.
Add algaecide to your pool in the morning after using shock treatment.
Test the pH level of your pool and see if it falls to 7.2. If the pH alkaline levels are high, add muriatic acid and then switch on the pump for six hours. Test the pH level again.
Test the pH level twice a week.
C. Seek Professional Swimming Pool Assistance
As a homeowner, you can only do so much to maintain your pool. You will need to hire a professional pool technician in order to perform preventive maintenance on your property. The pool is also in better hands with a professional if it needs resurfacing, pump and filter repairs, lighting improvements, plumbing repairs, and motor and heater repairs.
In case you need help maintaining your pool in North and Central Dallas, you can get in touch with Sterling Pool Service. We have been serving the communities in these areas for 26 years now and all through this time, we've made sure that our clients' pools remain a source of joy and recreation for their families. We offer the following range of services:
For more information, please do not hesitate to get in touch with us at 888-973-0274 and through the contact form on this page. Our service area includes the following: Sachse, Wylie, Murphy, Allen, Plano, Richardson, Garland and Dallas.