Summertime Pool Checklist

Summer is the season when your swimming pool is the most inviting. Because of the intense heat, all you want to do is put on your swimming gear and dive into the refreshing pool water. However, before you even step into your pool, you need to make sure that your swimming pool is ready for the season. If your pool isn't prepared or taken care of during the entire summer, your swimming experience won't be perfect. To ensure that your pool is always in its best condition, here's a checklist to help you stay on track with summertime pool maintenance and care:
Stock up on Supplies
Having pool equipment and chemicals always at the ready saves you a lot of time. If anything bad happens to your pool, you have the immediate means to either adjust the water balance or remove any floating debris. It's also wise to take advantage of cost savings by buying chemicals in bulk. Diligently keeping track of your chemical usage until supplies last will help you gauge how much chemicals you'll use for the next summer.
Inspect and Repair Any Damaged Equipment Regularly
Visually inspecting the pumps, valves, and filtering equipment regularly is the best way to find out if your pool is damaged or dirty. If your pool's experiencing the latter problem, just give it a good clean and it'll look like new. However, if any of the pool parts get damaged, it's better to have it repaired or replaced by the pool experts. The professionals are experienced in handling all types of pool problems. They also make sure that the repairs and/or replacements are done with no mistakes and delays.
Keep Your Pool Water Chemistry Balanced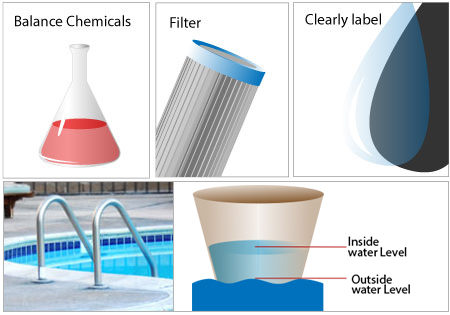 Adding chemicals to the pool might be a mystery to some, but for experienced pool owners, adding chemicals is crucial to keep a pool balanced. A balanced pool not only kills germs and bacteria, but it also provides the following advantages:
Makes the water look clear
Makes the water safe; doesn't irritate the eyes and skin
Protects the pool liner, ladders, hand rail, and other equipment from corroding
Prevents plaster from eroding
If you're unsure with your pool's water chemistry, bring a sample to your local pool store and have it tested.
Keep the Area Clean Always
Make it a habit to clean your swimming pool and the surrounding area before and after you swim. Seeing your pool and pool deck free from fallen leaves and other debris gives you a peace of mind while in the water. It's also better to clean up often to avoid creating clutter.
Have Your Pool Professionally Serviced
Even though many of the methods mentioned can be done on your own, it's still better to call your local pool professionals for help. The experts have the necessary equipment to repair and replace any pool damage and can easily balance your pool. It's also wise to have the experts inspect your swimming pool regularly, ensuring that your pool remains in perfect swimming condition all summer long.
If you're looking to have your pool in Sachse, Wylie, Murphy, Plano, Allen, Richardson, Garland or Dallas, Texas serviced, contact Sterling Pool Service today. We offer efficient and fast pool service and cleaning, leak detection and repair, and equipment repairs. We also provide pool renovations, making your swimming pool stand out during summer. Just give us a call at 888-973-0274 if you have any questions or need a quote.