Why You Should Have Deck-O-Seal Replaced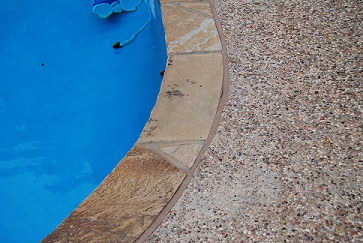 Keeping your pool clear and pool is just half the battle of pool maintenance. Not only do you have to preserve its aesthetic appeal, but you also have to be sure the flexible joint around the pool's perimeter is not cracked or missing.
DECK-O-SEAL or most commonly known as mastic, goes around the perimeter of your swimming pool between the deck and coping, and keeps water from going in between the two. Although some homeowners attempt this themselves, the results are usually poor. It takes skill, knowledge, and years of experience to apply this correctly and achieve the required results. You cannot fill in a missing space because it must be one continuous application. And because the existing joint has cured, it would not match the new product, which is not a pretty picture.
DECK-O-SEAL is used for caulking and sealing joints subject to concrete movement to provide a firm, flexible, weather-tight seal. It is ideal for sealing joints around swimming pools, and is applicable for both interior and exterior use. DECK-O-SEAL is highly resilient and has excellent recovery characteristics after extended periods of compression or elongation.
Highly resilient with excellent recovery characteristics
Provides permanent and uniform watertight seal.
Prevents uncontrolled cracking by allowing expansion and contraction during temperature changes.
Stays flexible … won't become brittle or crack due to ultraviolet exposure.
Resists abrasion, weathering and moisture … elevated temperatures will not cause discoloration.
Not affected by today's pool chemicals.
Retains joint soundness in service once it's cured and can be stretched or compressed up to 25%
If you are living in the areas or surrounding areas of Sachse, Wylie and Murphy, Texas, and are in need of professional pool repairs, renovations, and cleaning services, then contact Sterling Pool Services by dialing: 888-973-0274 today! You may also visit our contact page here for more inquiries!