Basic Pool Safety Tips You Should Teach Your Children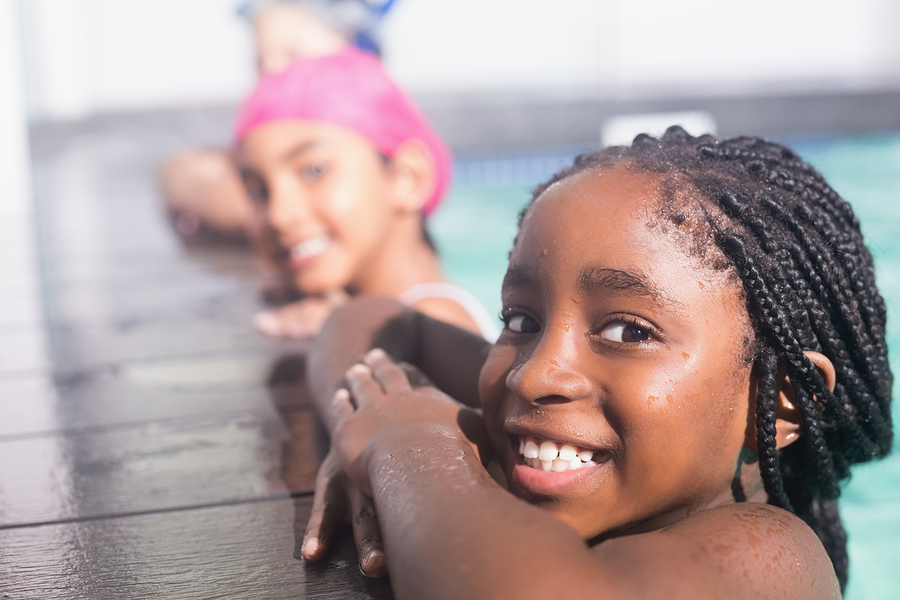 The rowdiest and most energetic years of a human being can be experienced during the child years. Children are always full of energy and are curious to know how one thing works, what that thing is, or utter the ever so common question – why?
Because of their curious nature, kids can get themselves into all sorts of trouble even without meaning to. It is the job of the parents to teach and guide them in order to prevent possible personal injuries and damages.
Swimming pools may spark the interest and the excitement within children, but it is also a place where numerous accidents can take place. Slips, diving accidents, and drowning are devastating situations you do not want your child to be caught in. To avoid such events, the best thing you can do is to teach them about the basic tips on pool safety and the dangers of roughhousing near the pools.
Simple Safety Tips to Teach Your Children
Floaters are a Must!
If your child does not know how to swim, purchase inflatables to keep the swimming experience safe and fun.
Walk not Run!
The surfaces surrounding the pool can be slippery and if an unsuspecting child runs around the pool, s/he may slip and injure her/himself. Teach your children to walk and not run around the pool to avoid such accidents from happening.
No Fighting, Pushing, or Jumping in the Pool
Keeping the roughhousing activities at a minimum will avoid the possibilities of creating a dangerous situation. Teach your child the proper pool etiquette to keep her/him and her/his friends safe in the pool.
The Swimming Buddy
Before you assign a swimming buddy to your child, make sure that that person knows how to swim. In some situations, you might need to leave the pool to answer a phone call or entertain a house guest. If you are not available to guide your child in the pool, assign a trustworthy family member or friend to watch over your kid.
Swim in the Proper Area
Some children might find it difficult to swim in deeper areas but might feel adventurous to go give it a try. Remind your child that s/he is only designated to swim at a certain area of the pool in order to avoid drowning.
Additional Tips
NEVER dive head first into a pool unless: 1) The pool is over 6 feet deep (always ask an adult!); 2) You know how deep it is; 3) You can see the bottom. In public pools, depth markers are required by law to be embedded on the pool coping. Good slogan to remember is: When in doubt – keep your head out.
Under Barriers and Gates – Install a door alarm leading to the pool that sounds whenever it is opened.
Always Follow the Rules
You have made and implemented these rules for a reason; the goal is to keep your child safe from harm. If ever your child does not follow any of the rules stated, always be there to remind her/him about the dangers of not following them and that these rules are there to save her/his life.
Necessary Precautions
Installing Barriers and Gates
There may come a time wherein your child will wander off near the pool and potentially slip inside. To prevent that type of situation from happening, having a gate or barrier installed around your pool will keep your kid out of harm's way. Make sure that only the adults in the house can operate these structures so that the child will not "accidentally" unlock them, giving your child a passageway to the pool.
Learn CPR
Both you and your child should know how to save a life. This skill will not only help you during the early years of your child's swimming experience, but it will also enable your child to save a life in the future.
Continue with Swimming Lessons
Teaching your child how to swim properly will reduce the amount of safety measures you will need to implement. This is not necessarily a negative impact; it just means that your child is ready to swim independently and has the capability to teach other children to swim as well.
If you are living in the surrounding areas of Dallas and Collin Counties in Texas and are in need of professional pool services, dial: 888-973-0274 and we, at Sterling Pool Service, will immediately aid you. We service all pools in the following areas: Sachse, Wylie, Murphy, Plano, Richardson, Garland, Dallas and Allen. Our services include pool service and cleaning, pool repairs, pool renovations, and provide the best equipment for any type of pool. You may also visit our contact page here to know more!