Pool Timer Upgrades

A swimming pool is a great way to stay cool in the summer and increase your home's value. However, taking care of a swimming pool can be a very challenging task. You have to constantly check if the water's pH levels are balanced and inspect each of the pool's components for damage. Fortunately, there are many different services and pool products that can make your maintenance routine easier. One good example is the pool timer, which is a device that helps you be more conscious when using your pool pumps.
The Role of a Pool Timer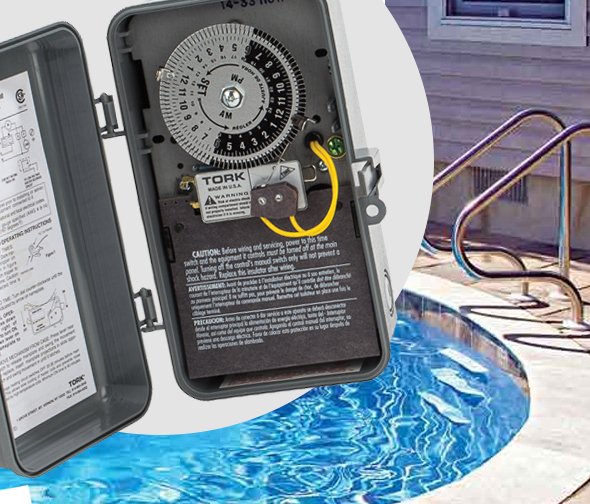 A pool timer is connected to one or more pumps and powered by a grounded power source. It lets you control the length of time your pool pumps are running, which is good news for pool owners who forget to shut off their pool pump. Some pool timers even come with freeze protection features to prevent pools from freezing in winter.
With a quality pool timer, your pool's upkeep will be less of a hassle. Pool timers allow you to enjoy your pool, while also helping lower your energy bills.
Find Quality Pool Timer Products and Reliable Pool Services at Sterling Pool Service
If you are ready to improve your pool's functionality and longevity with a pool timer upgrade, contact Sterling Pool Service today. We have been in the swimming pool business for more than 30 years and we are an authorized dealer and distributor of top-of-the-line swimming pool equipment. Because of this, you can trust us to help you look for a pool timer that suits your needs and budget.
Questions

or Need

Quote?

Our service area includes Sachse, Wylie, Murphy, Plano, Allen, Richardson, Garland and Dallas. Fill out the form below and we will contact you shortly.
---
If your pool is starting to look old or unappealing, our fully licensed and certified technicians can renovate your pool and offer replacements or upgrades for failing pool equipment. Whether you're looking for a new pool timer replacement or upgrade, contact us at 888-973-0274.
Our pool cleaning services are available in Sachse, Wylie, Murphy, Plano, Allen, Richardson, Garland, and Dallas, Texas.