Pool Service, Repairs & Cleaning in Plano, TX
Our service area includes Sachse, Wylie, Murphy, Plano, Allen, Richardson, Garland and Dallas. Fill out the form below and we will contact you shortly.
Sterling Pool Service is a full service residential swimming pool company. Our pool services include scheduled maintenance services, cleaning, repairs, renovations, and other related services for your swimming pools. We also service your pool equipment in Plano, TX including filters, valves, cleaners etc. We are a swimming pool repair and cleaning company that handles the total care of your residential pool. We will work with you to obtain the best possible results for your swimming pool needs, so you can enjoy your pool without worries.
Our consistent experience in the pool service industry shows just how reputable Sterling Pool Services is in handling all services for your pool. We will work with you to provide pricing variations and only the services you need. We won't hassle you to add services that are not necessary. No matter what service we are providing, we will present you with documented bids so you will know exactly what you are paying for. It doesn't matter if you want weekly cleaning services or repairs for your pool equipment, we will help give you the best possible services within your budget.
When you need work done on your residential swimming pool in the Plano, TX area, call us at 888-973-0274. We have been providing exceptional services for over 26 years and will ensure we do the same for your pool.

Learn about Plano, TX:
Plano, TX was discovered by settlers in the 1840s, but the population did not increase until there were some facilities in area. The addition of these facilities included a sawmill, gristmill, and a convenient store, and in 1872, local residents recommended the area be named after its natural local terrain.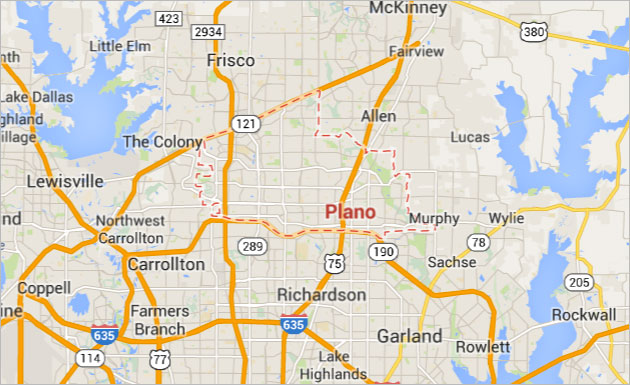 Plano was later accepted as the city name by the first established post office in the area. Later that year, railroads were constructed through the area, increasing the population and leading the city to be incorporated in 1873. Plano's central business district lost most buildings after a fire damaged the area in 1881 and the city was reconstructed throughout the 80s. During that time period, businesses were booming once again and in 1881, the Plano Independent School District was established for public education. By 1960, there were almost 3,700 residents in Plano, TX. In 1990, there were over 128,700 residents populating the city and establishing the city as the county seat. By the year 2000, Plano was recognized as one of the largest suburbs of Dallas with a population over 222,000. Today, the area is fully developed and there's not much room to grow within the city limits, making it a city of plentiful opportunities.
Customer Reviews from Plano
Completed Jobs from Plano, TX
Testimonials from Plano, TX
Estimate Request from Plano, TX
Pam C. on December 5, 2017 10:53:03am
Black pool needs draining 55,000 gal
Dave B. on November 4, 2017 6:31:44pm
Hi- looking for 2x a month until next summer then 4x a month. Please provide a quote. Also- can you keep a credit card on file to bill? Thx
Elizab P. on September 8, 2017 2:43:37pm
Gave bid to clean up pool.
TV R. on April 8, 2016 8:54:54pm
Dear Sir/Madam, Kindly let me know how much you will charge to install the following in our pool in Plano TX, 75025: Nature 2 Express W20086 Inline Chlorinator R171096 Aqua Link Upgrade kit 1Q20-RS Have a nice day! Thanks. TV Ravichandran
George G. on October 26, 2015 3:50:07pm
I need a pool drain and clean. I have a leak around nozzle. Plz call.
Ryan R. on March 22, 2015 6:32:35pm
Was wanting to get a quote to re-plaster my pool. I had a friend come out who does pools but is not from Dallas who said to tell you that it is 97 lin ft. I'd want something that is not the cheap 1 yr guarantee but not something that is super expensive either.
Megan R. on September 22, 2014 1:22:14pm
I am looking for a drain and clean service as well as weekly/biweekly services after the initial drain and clean. Thank you.